By The Startups Networking Community Forum
By The Startups (BTS) Community forum and organization, one of the leading business lead
referral & startup networking communities was formed in 2016 by Shameer, an IT Project Consultant, founder of
IT Projects Media & CogniQuo, and a startup enthusiast; and Gayathri Rajesh, founder of SearchnScore,
an IT service company. Based in the entrepreneurial city of Coimbatore in Tamilnadu, South India,
By The Startups community forum was built with tons of love, passion, and dreams towards serving
the business community forum and wider startup ecosystem better. Supported by 4500+ entrepreneurs
and 100+ community enablers from all across the globe, we are growing exponentially to become the
leading business networking community forum and organization in South India. BTS is India's
first Community-based business visibility forum and organization. We're also an alternate
media that covers businesses that mainstream media don't cover at all.
---
Highlights of the BTS Community Forum
Featured in leading media outlets including Indian Express, The Hindu, Yourstory Tamil, Daily Thanthi, Success Plus, ET-NOW, Puthiya Thalaimurai, just to name a few


We're India's first community forum and organization to adopt and revive the 2000-year-old Aristotle Persuasion Model of three appeals: logos, pathos, and ethos for business visibility & reputation


Recognized startup community forum and organization on Startup TN or TANSIM (Tamil Nadu Startup & Innovation Mission), a TN government initiative to nurture the startup ecosystem in Tamilnadu


Head of Community Circle (North Kovai) of Startup TN organization


Member of Institution's Innovation Council (IIC), Ministry of Education (MoE), Govt. of India at DJ Academy for Managerial Excellence, Coimbatore


Member of Board of Studies (MBA Dept.), Avinashilingam University for Women, Coimbatore


Member of TNEDII-TNSTI program


Partnered with some of the leading business organizations including CMA, TiE, Startup Grind, Native Leads, Headstart, CNI, South India Press Club, and several incubators/accelerators including AIC RAISE, Technology IHub Foundation (IIT Palakkad), etc to host startup events


Collaboration with some of the startup incubators including SPARK, AGILE, and several Entrepreneurship Development Cells (EDCs) of reputed institutions, colleges, and universities in Tamilnadu in the form of an MOU
---
About the Founder – Shameer.S
Shameer.S is the founder of IT Projects Media, a creative Digital Marketing &
Media Agency (started in 2017), and Cogniquo, a Biztainment & Edutainment platform (started in 2023), both based out of Coimbatore.

With 14+years of experience in Organic SEO/SMO/ORM/Branding/UI/UX Design/Storytelling
Consulting/SEM & Digital Marketing under his belt, Shameer's philosophy is pretty much simple:
To bring true value into his client's Branding and Digital Marketing process. His brief stint as a Scriptwriter
with an animated explainer video firm in Coimbatore helped them to win an award for its
Animated Explainer Video at the national level from the 'Election Commission of India' in 2015.
Storytelling is in his DNA, and he revels in churning out stories of anything from anywhere.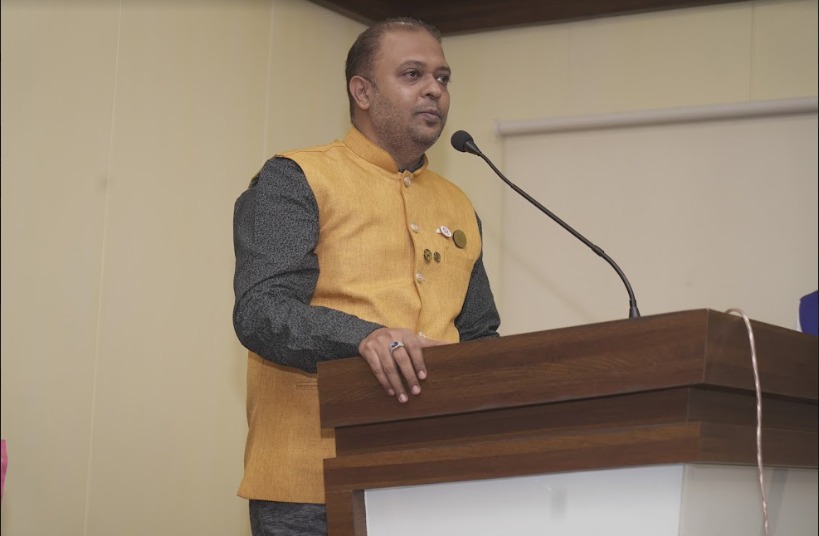 Shameer is an industry-recognized speaker, acted as a moderator in several forums, and a startup
mentor in institutional incubators (TBIs) and EDC cells across the state. Featuring as a speaker
in over 500 offline and online sessions, training, and boot camps, he is also a professional quizmaster and trainer in his preferred areas of Digital Marketing,
Tech Leadership, Networking and Communication. He completed his schooling at
the famous Stanes Anglo Indian Higher Secondary School (1999), one of the
best schools in Tamilnadu, and obtained an engineering degree in Electrical and Electronics Engineering (2005)
from Sri Ramakrishna Engineering College, Coimbatore, affiliated to the world-famous Anna University,
Chennai. His personal vision is to create 10,000 innovative and startup leaders from the state of Tamilnadu where he hails from.
---
Founder – Key Awards & Honours
Honored with the position of Head – Startup TN Community Circle (North Kovai) conferred by the honorable Chief Minister of TN, Thiru MK Stalin


Received the Best Ecosystem Enabler Award from AIC Raise, Government of India (Coimbatore)


Received the Best Ecosystem Enabler Award from the South India Press Club, AGILE Incubator, and several other institutions


Conferred the Top Growing 20 Global Leaders Award from the Guild of International Speakers and Trainers (Edufam Academy, Singapore)


Featured as a speaker in 70+ institutions and 300+ entrepreneurship meets across the state


Conducted 25+ Bootcamps, Hackathons, and numerous hands-on training workshops and sessions in the area of entrepreneurship & placement in various institutions


Featured as a session moderator at the Global Conference 2019 & National Conference (NATCON) 2023 at Avinashilingam University for Women, Coimbatore


Featured as a speaker at the IIC – Regional Meet (Southern Zone) held at PSNA College of Engineering and Technology, jointly conducted by the IIC, MOE's Innovative Cell, and All India Council for Technical Education
---
Vision
Our vision is to build businesses, people, communities, organizations, and ecosystems, and transform the way business is conducted in conformity with the principles of humanity. We strive to provide visibility and build the reputation of 10,000 businesses including SMEs, MSMEs, and Startups all over. We endeavor to connect over 5000 institutions with the wider industry ecosystem.
---
Mission
To become the best business community enabler in the world 


To enhance the impact and support for the wider startup ecosystem


To transform the way business communities function by forging long-term, meaningful, and sustainable relationships with community stakeholders
---
What we believe (BTS Community Forum/OrganizationManifesto)
We believe in the power of the community.


We value mutual support from our members, as we definitely give them back in terms of value.


We believe in the power of the human spirit and resilience. 


We believe in fairness and equality. 


We believe both women and the LGBT community have equal rights to lead in business. 


We believe technological innovation is a game-changer, and should be utilized only for the betterment of humanity. 


We believe business can be a good place to develop good relationships for life. 


We believe business improves one's conduct and can do only good. 


We believe business is the foundation for world peace and global harmony.


We believe business can alleviate global poverty, and improve the lives of marginalized and minority communities.


We believe treating people with respect is the only way to gain respect. 
---
How we work?
We build robust business communities.
 
We give, so we receive.


We build, curate and share content, knowledge, and experiences. 


We listen before we act. 


We initiate and accelerate. 


We convene, collaborate, communicate, and connect. 


We put back into the community forum that we work with. 


We put innovation at the core of all our activities. 
---